Is anyone interested in starting a software development company in India? Here we Are giving You Detailed Information About How To Launch a Software Development Company.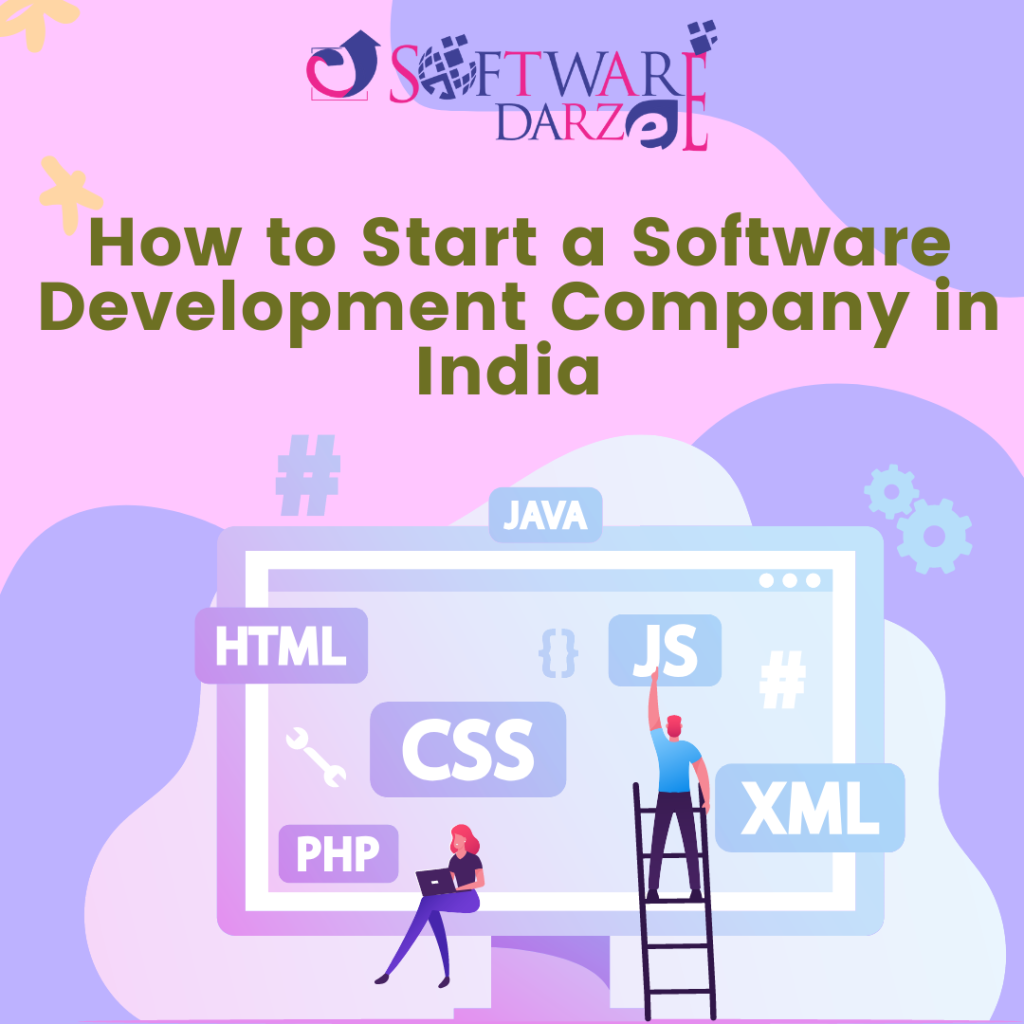 The main Reason To Start a Software company is that With The Advancement of technology every business must rely on software for the day to day activity as well as an increase the efficiency of the business.
Running a Software Development company is not so easy because it requires a degree in computer sciences and must have knowledge of coding and development apart from the degree it also requires you to gain information about Business, Finance, Marketing, Accounting, and Human Resource Management.
Software Development company helps us to create and earn a lot of money to fulfill our desire and standard of living that everyone wishes for.
A Complete Guide To 20 Steps Framework to Start a custom software development company in India.
In order to compete with the competitors, the person must understand the industry very well.
1. Understand The Industry
This may include market research about the demand for software in the future, which technology or latest technologies in software development
the company must use, and which product the company must launch, Pricing of the software will bring a great impact on sales and branding of the company.
2. Conduct Market Research And Feasibility Study
Market Research is mostly dependent on demographic and psychographics:
Here Is the list of users who uses software :
Insurance Advisors
Industry
Agriculture business
Homeowners
Corporate Organisations
IT sector
Education Institution
Hospitals
Accounting sector
Travel agencies
Restaurants
3. Decide the Niche To Concentrate On
The main step is to focus on one particular niche in which a person has the expertise and on the basis of that person can take according to that.
There are many niches the person can focus on related to software such as customer relationship management software, Learning management software, Enterprise software, Customized software, Business Function Outsourcing, Data warehousing, and Systems Planning.
4. Know Your Major Competitors In the Industry
Before entering into any business everyone should keep in mind their competitors. They can compete with them once they have some sought of marketing strategy that makes the company different from their competitors. Here is the List Of competitors :
HP Inc.
Microsoft Corporation
IBM
Progress Software Corporation
PTC Inc
Cerner Corp.
Xerox
Oracle Corporation
SAP
Symantec Corporation
Owen Software Development Company Ltd
Progress Software Corporation
PTC Inc
Cerner Corp.
Xerox
5. Decide Whether to start a Franchise or start from scratch.
The next step is to start your own software development company or own a franchise related to software.
In my opinion, if you start your own company then you have your own vision and goal and you can work according to that and there is no boundation related to work and target. You can outsourced software development team or appoint an in-house software team for work and development.
Whereas if you own a franchise, you are bound in work and more dependent on their rules and regulation and you work on a commission basis.
6. Know The Possible Threat And Challenge You Will face.
When we enter into the new business we can do a swot analysis where we can check the strength, weaknesses, opportunities, and threats of the business.
The main thing we keep in mind is that we will face many challenges in the future to compete with big companies and make strategies according to that.
7. Choose The Most Suitable Legal Entity
Now the next step is to choose the suitable entity whether the person wants to go for a sole proprietor firm, Partnership firm, Private limited, or LLC. It all depends on the person and which legal entity firm he/she wants to opt for.
8. Choose A Catchy Business Name
Every Business must be recognized with a particular name so the next step is to finalize the name which is suitable for a particular niche and tells everything with their name.
9. Discuss with an Agent to Know the Best Insurance Policies for You.
The reason why it is advised to get insurance is that everything is uncertain and we can't predict anything. We must have insurance in order to save us from future uncertainties. There are Different Types Of Insurance as follows:
Liability Insurance
Health Insurance
Error And Omissions Insurance
Disability Insurance
Life Insurance
Personal Umbrella Insurance Policy
Car Insurance
10. Protect your Intellectual Property With Trademark, Copyrights, Patents
Every software must register its trademark or brand name so that no one can use that name and along with that you must have copyrights and patents of your brand and product also.
11. Get the Necessary Professional Certification
In India, If you want to start a new business entity you must have two basic certifications.
GST Number.
Udyam Adhaar Certificate which is issued to micro small and medium enterprises and Certificate is issued by the Ministry of MSME.
You can get the online certification from https://udyamregistration.gov.in/Government-India/Ministry-MSME-registration.htm
12. Get the Necessary Legal Documents You Need to Operate
Every business must have basic legal documents to start or operate the business.
ShareHOLDER Agreement
Founders agreement
Certificate of incorporation
No objection certificate (NOC)
Company PAN card
TIN number
Non-disclosure agreement
GSTIN
Employee offer letter
13. Write a Business Plan
In order to start getting results from business in the proper manner then everyone should write their business goals and software startup ideas which they want to achieve. This helps them to keep and record the idea in the best way and nothing can be skipped while we write a business plan.
14. Prepare a Detailed Cost Analysis
Before starting a software development business everyone must keep in mind the cost incurred on starting the business.
It may vary from business to business and person to person. Some start their business at low cost with no rental cost and some start with huge investment.
15. Raise the Needed Startup Capital
The person must raise the startup capital from different sources.
If the person doesnt have enough money to start then he/ she can contact different banks as govt. Launched various schemes under the startup India campaign where new startups can get loans at subsidized rates.
16. Choose a Suitable Location for your Business
One who starts a software development company he/she must consider the location where their business can speed up and have a good customer base.
For instance, if anybody wants to start a company they must consider Ludhiana as it is a manchester city in India with and good customer base and every company wants to become the best software development company in Ludhiana, Punjab, India. It is possible only when he/she chooses a suitable location where the crowd is there.
17. Hire Employees for your Technical and Manpower Needs
Every company must hire employees for the fulfillment of projects on time. some companies hired employees on a project basis and some hired them on a salary basis.
The company also fulfills the demand of manpower such as internet access, laptops, printers, landline phones, and all these basic needs.
18. Work Out a Reasonable Pricing for your Services & Products
If anyone wants to survive in the market they must have quality products and services with reasonable pricing. After developing software customers must receive the best customer support so that they will give you references.
19. Develop Strategies to Boost Brand Awareness
Every company must develop a brand awareness strategy in order to boost sales of the product and services.
The company must run FB ads and Instagram ads or lead generation campaigns to boost sales and brand awareness.
20. Create a Suppliers/Distribution Network
Every Software company must have a proper supplier and distribution network so that no work can be interrupted and there will be no shortage of devices.
Conclusion
In The End, we gave you detailed information about how to start a software company in India so that those who are looking to start it, they can start without any problem and with no extra cost. We can say that the software development business is one of the most profitable and future businesses that everyone looking for.
Here is Link To my other post- https://softwaredarzee.com/customer-relationship-management-all-about/